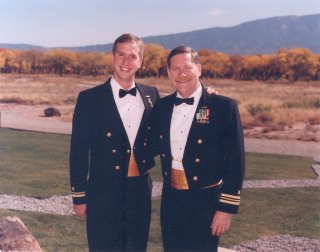 Groom Clarke (left) and father-of-the-bride Dave.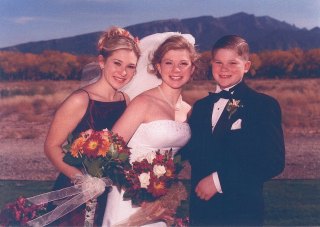 Christie, Beckie and Jonathan were all just about 5'-3" tall at Beckie's wedding in October 2001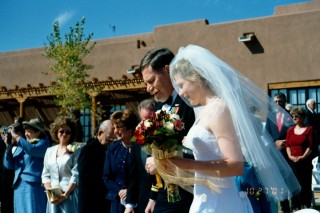 Dave walking Beckie down the aisle in outdoor wedding held in Albuquerque, NM on Oct 27, 2001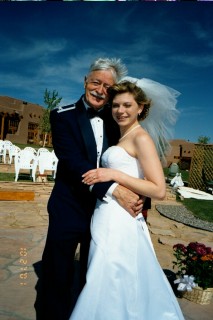 Our beautiful bride Beckie and her grandfather Dr. Myr Guy at the Oct 2001 wedding. "Daddy Myr" officiated the wedding ceremonies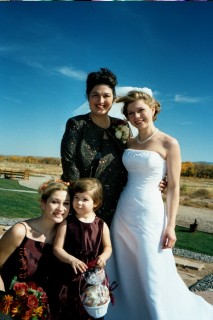 Ladies in waiting at the wedding Oct 27, 2001. Trinka and Beckie (almost 23) standing, Christie (17) kneeling with Julie, who turned 4 the next day.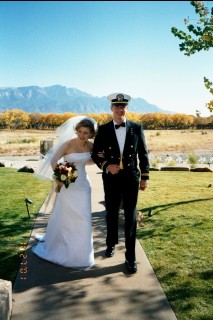 Beckie and Clarke as husband and wife during wedding recessional.

A romantic horse-drawn carriage took the bride and groom for a ride along the Rio Grande River after the wedding ceremony. The wedding was held at the Hyatt Regency Tamaya Resort in Bernalillo, New Mexico.
"Delight yourself in the Lord and He will give you the desires of your heart"
Psalm 37:4
Questions or comments on this page?
E-mail Dr. J David Rogers at rogersda@mst.edu.