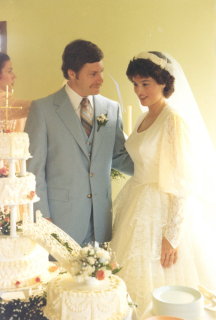 J. David Rogers and Katrinka R. Guy were married on Saturday June 12, 1982 in Moraga, California. We planned everything except what to do with Dave's Jeep. We ended up driving away from the church in our own respective vehicles!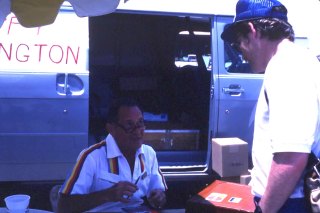 Our honeymoon began with a 2-day airshow at Naval Air Station Lemoore. Here I am chatting with Pappy Boyington while he signs a book for me.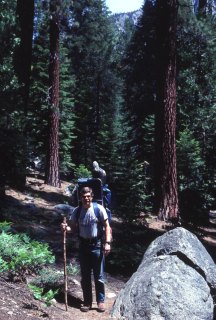 We went backpacking in Sequoia and Kings Canyon National Parks for our honeymoon.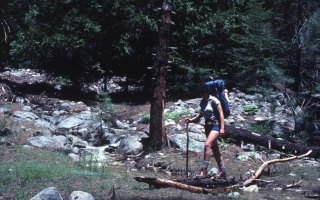 Trinka said she'd go anywhere with me, so long as there weren't any bears. I laughed at her, telling her bears only hung out in Tuolumne Meadows, where all the tourists are. We shouldn't see any in the remote backcountry….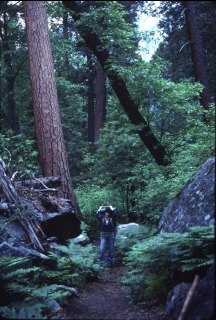 The Paradise Valley loop offered a beautiful array of scenery, including fern glens like this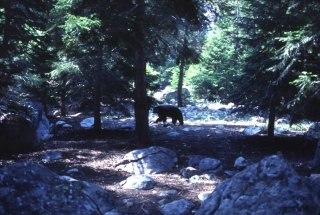 Our near-constant companion during three days of backpacking in Paradise Valley was this brown bear, which we nick-named "Ralph". He seemed enamored with Trinka and followed us everywhere!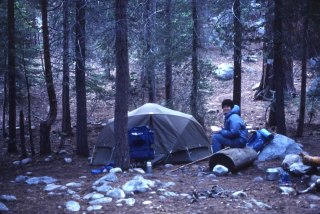 Our camp in upper Paradise Valley, at confluence of Woods Creek and the Kings River. Ralph the bear managed to steal everyone else's food but ours at this camp. Dave constructed a secure bear bait bag, 25 feet high between two sturdy trees.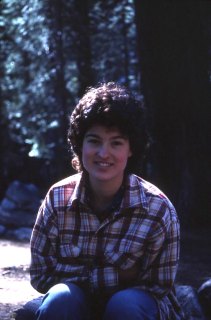 Trinka looked radiant even after three days on the trail! I snapped this after our morning coffee at 7,100 feet elevation along South Fork of the Kings River.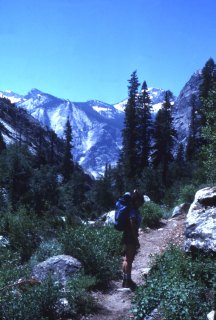 This is where Ralph the bear gave up following us: at Mist Falls, where the Kings River begins dropping from its hanging valley into the glaciated canyon below. While walking down the falls and back to our camper we memorized our life verse, 1 Thessaelonians 5:18
Rejoice always; pray without ceasing; in everything give thanks; for this is God's will for you in Christ Jesus
1 Th 5:18
Questions or comments on this page?
E-mail Dr. J David Rogers at rogersda@mst.edu.