KELLER CANYON LANDFILL
PITTSBURG, CALIFORNIA


J. David Rogers, Ph.D., P.E., R.G., C.E.G.

We were selected by the City of Pittsburg to perform a series of third party peer professional reviews of the engineering geology and geotechnical aspects of the proposed design and construction of the Keller Canyon Landfill located near Pittsburg, California. This project included a peer review and critical analysis of the relevant technical portions of the reports, plans, and landslide maps prepared for the Keller Canyon Landfill. The purpose of our review was to determine the extent of landsliding, adequacy of completed investigations and analyses, potential impacts of landslides, and stability of the liner system. The findings of our geotechnical peer review were presented to the State of California Integrated Waste Management Board by Dr. J. David Rogers.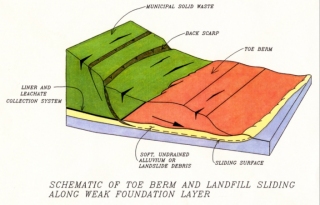 Schematic of Toe Berm and Landfill, illustrating potential for reactivation of
pre-existing landslides mantling the slopes of Keller Canyon.
This was presented in 1992.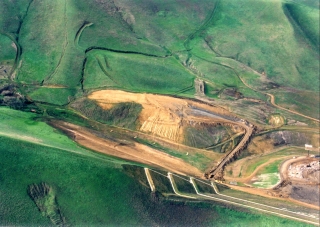 Bedrock landslide in Markley formation reactivated by toe excavation in the
Keller Canyon Landfill in February 1996. Some things can be predicted (see above)




Questions or comments on this page?
E-mail Dr. J David Rogers at rogersda@umr.edu.