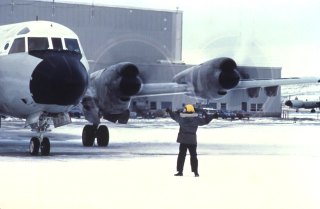 Adak was the most unpredictable deployment location for maritime patrol units, requiring 21,000 lbs of fuel "on top" of the base on returning flights, because the nearest divert fields were a long, long way off. During wintertime, about 50% of the missions would divert to others bases in Alaska, usually King Salmon on Bristol Bay, Elmendorf near Anchorage, or Eielson near Fairbanks.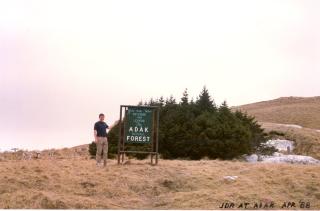 That's me standing next to the only trees on Adak Island, planted by some creative Navy foresters and provided with the humorous sign proclaiming them as the "Adak National Forest."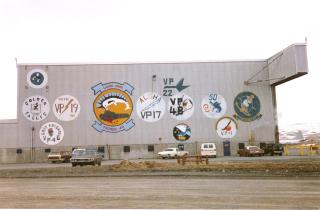 Here's the Navy hangar at Adak, splashed with the emblems of the various squadrons that had deployed there up through early 1988.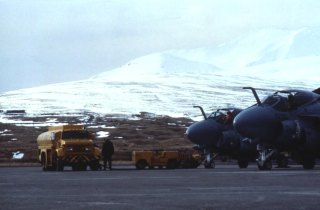 A-6 Intruders lined up along the runway at NAS Adak during Haven Ops. Their mother carrier would operate out of a protected anchorage somewhere in the Aleutians, to better protect them from Soviet submarines while the air wing engaged in offensive operations, from both the carrier and the base. Scuttlebutt was the carrier guys came up with scheme so their aviators could collect per diem like the P-3 crews!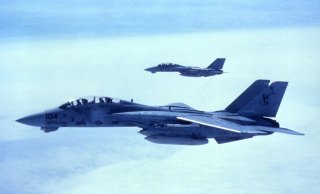 Operation Coyote was the code name for readiness exercises that dispatched F-14's from their west coast home at Miramar to Adak. The planes were supposed to be on the deck in Adak within 30 hours of notification and the maintenance personnel and spare parts within about 48 hours. The fighters flew mission intercepts of Soviet reconnaissance aircraft, well beyond their expected range of deployment. This view shows a pair of Tomcats from VF-51.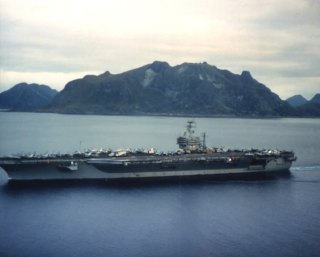 In 1988 the Navy began experimenting with "Haven Operations", placing carriers in sheltered Aleutian inlets during exercises. Maritime Patrol Aviation assets (P-3s) were an integral part of this training scenario.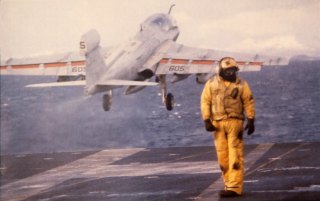 EA-6B Prowler being launched from the Carl Vinson during Haven Ops in the Aleutians/Bering Sea area in 1988-89. Note the cold weather gear being worn by the catapult handler. Despite such precautions, many of the deck hands suffered from the cold weather.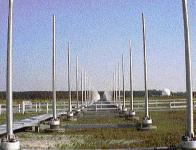 In December 1988 the Navy positioned AN/TPS-71 Relocatable Over-the-Horizon Radar (ROTHR) antennas like those shown here on Amchitka Island. I began briefing our forces on this system at that time. ROTHR arrays were intended to provide advance warning of air or surface threats at "great range". The concept was so successful it was subsequently adopted for use in the Caribbean and Atlantic seaboard to help with drug interdiction.
Questions or comments on this page?
E-mail Dr. J David Rogers at rogersda@mst.edu.