| | |
| --- | --- |
| | |
My interaction with the Navy came primarily through Cub Scout field trips to Long Beach and San Diego. These views show me visiting the USS Galveston (CG-3) in San Diego on my 10th birthday, in May 1964.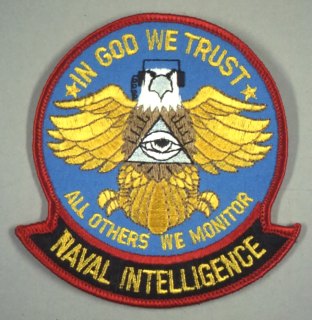 I began the process of becoming a Naval intelligence officer in September 1982, after receiving my PhD in geological and geotechnical engineering from U.C. Berkeley. This was the official patch of Naval Intelligence, still available on eBay and most base exchanges.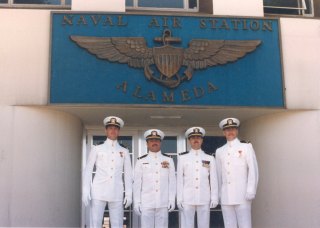 The first unit to which I was assigned was Fleet Intelligence Rapid Support Team Pacific 1187 at Naval Air Station Alameda. This shows four of our JO's in our choker whites (left to right): Geoff Phillips, Jim Jellison, Bob Cieri and Dave Rogers in August 1985. Bob Cieri tutored me in the fine art of becoming an effective naval officer, in the mold of Ensign Terrence O'Toole.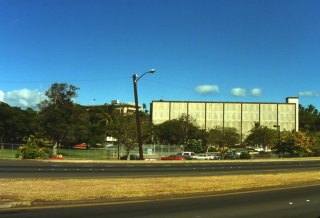 My first active duty period was spent at the Fleet Intelligence Center-Pacific (FICPAC) on Makalapa Hill at Pearl Harbor in the summer of 1985. Note that intelligence facilities are devoid of windows!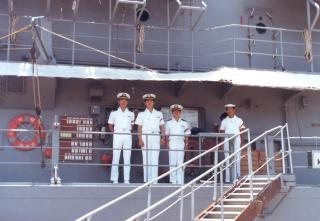 During my duty at FICPAC in June-July 1985 I was invited for lunch in the wardroom of the Japanese training cruiser Katori. This shows my reception committee standing on the Quarter Deck. I was embarrased to be wearing my working khakis!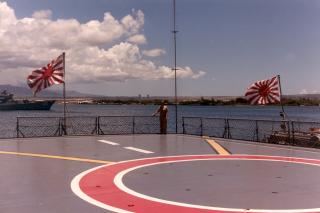 That's me in my khaki working uniform standing on the Katori's fantail with the Japanese naval ensigns. The USS Arizona Memorial lies across Pearl Harbor's East Loch, in the background.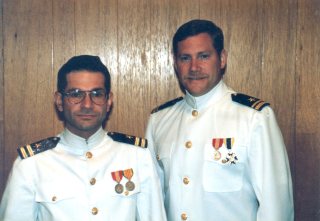 My older brother Robert and myself in choker whites at his wedding rehearsal in September 1986. Rob was a plank owner on the USS St. Louis (LKA-116) during the Vietnam War (1968-74). He made five trips to Da Nang and back and held enormous influence on my decisions as a young man.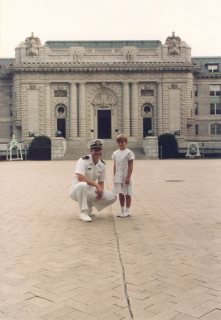 With my daughter Beckie in front of Bancroft Hall at the Naval Academy on July 26, 1986. 7-year old Beckie was the "Belle of the Ball" at the Officer's Club later that evening; the only kid present and having herself a wonderful time. It had a lasting impact. Today she is a Naval intelligence officer!