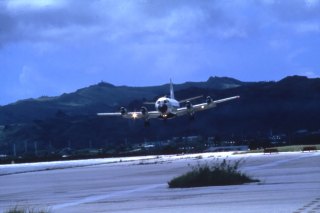 One of our EP-3E Aires II's of VQ-1 landing at NAS Agana, Guam. Guam is the largest of the Marianna Islands and a protectorate of the United States. One of these same birds (#32) subsequently brought fame to VQ-1 when it was involved in a mid-air collision with a Chinese F-8 fighter over the South China Sea, making a remarkable recovery and emergency landing on Hainan Island in April 2001.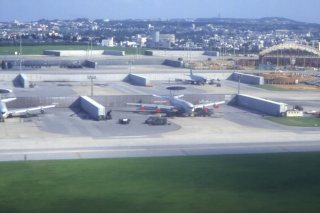 Kadena Air Base on Okinawa is operated by the US Pacific Air Force. During the Cold War a P-3 squadron was forward deoployed here, rotating on 6 month cycles. The best Navy patches were also made here, off base. This view shows some Air Force E-3C AWACS and KC-135 refueling aircraft. Kadena was famous for Japanese Kobe beef restaurants.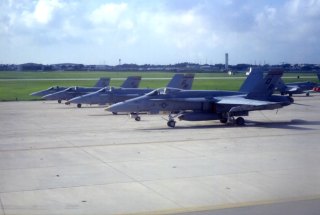 The Iraqi invasion of Kuwait in early August 1990 necessitated our establishing a naval blockade of Iraq as quickly as possible. I was off to the Middle East with only 14 hours warning. I snapped this picture of Marine F/A-18 Hornets at NAF Kadena on Okinawa, where we all stopped to gas up and rest on our way to the Persian Gulf. Our initial planning sessions were carried out at Kadena with the forward-deployed P-3 squadrons.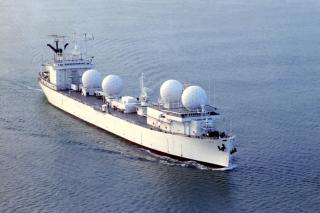 While cruising around the central Pacific we occasionally encountered this strange looking Range Tracking Ship, which tracked missile launches out near Kwaljelin Atoll in the Marshall Islands.
Questions or comments on this page?
E-mail Dr. J David Rogers at rogersda@mst.edu.