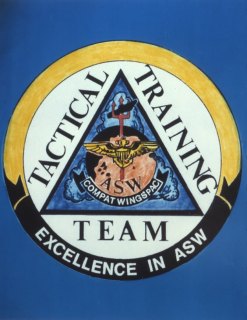 The Tactical Training Team of Commander Patrol Wings Pacific was an elite group of antisubmarine warfare experts selected from VP-31, the Pacific P-3 Fleet Replenishment Squadron. Our job was to teach graduate-level ASW tactics to fleet operators. I became the team's first assigned intelligence officer in October 1987.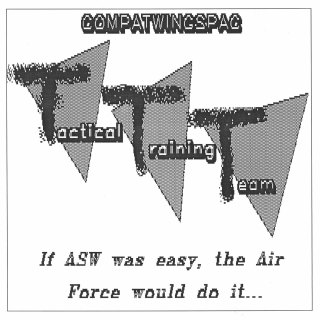 This was TTT's unofficial logo, which hung on the back side of our office door in the FASO spaces of Hangar One at Moffett Field.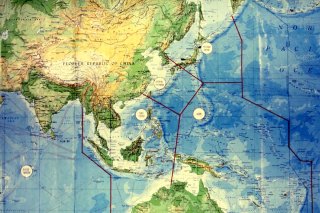 Map showing Areas of Operations (AORs) for P-3 Orion squadrons forward deployed in the Pacific Command for 6 month periods during the early 1980s. These bases included: Diego Garcia (Indian Ocean), NAS Cubi Point (Philippines), NAF Kadena (Okinawa), NAF Misawa (Japan), and NAS Agana (Guam). After 1985 we began deploying a squadron to NAS Adak (Aleutian Islands) instead of Guam.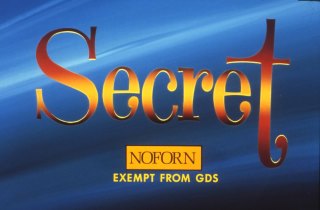 This is the classification slide I normally began all my briefings with while working on the Tactical Training Team (TTT) between 1987-91.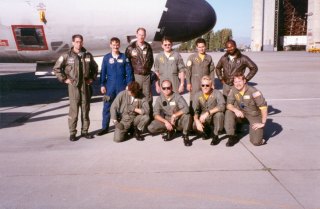 PATWINGSPAC Tactical Training Team in 1990; kneeling (left to right): AW2 Phil Marshall, LT Karl Glaeser, LT Marty Martin, LT Dave Rogers. Standing (left to right): LT C.J. Kalb, AW1 Mike Minn, AWC Joe Ladwig, LCDR Carl Rehling, LT Mark Radice and AWC Ken Thomas.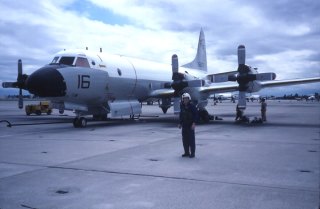 Here I am standing next to Romeo Papa ONE SIX, the spanking new P-3C Update III leased and operated by the Tactical Training Team (TTT), whenever VP-31 would allow. This was taken shortly before my first WESTPAC deployment site tour in April 1988. TTT logged about 35,000 miles on each WESTPAC tour and we tried to make two tours per year.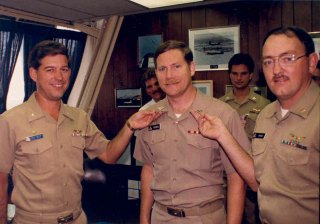 On August 23, 1988 I was promoted to senior Lieutenant by CDR W.G. Bozin, skipper of VP-31 (on left). TTT leader LCDR Deon Harkey is at right. Eric Thorsen and B.X. Mack are standing behind me, waiting for the wetting down party at Tide House in nearby Mountain View.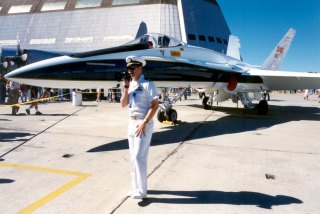 One of my first duties after being winged was being a tour guide at the NAS Moffett Field Air Show and Open House in October 1990. In this view I am extolling the virtues of one of NASA's F/A-18's from their Ames Research Center, located there on the same base.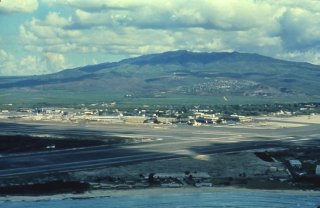 Aerial view of NAS Barbers Point, Hawaii, home of Patwing 2 during the Cold War. We briefed a Patwing 2 squadron about every 8 weeks while I was with TTT, flying to Hawaii on Sunday and returning to Moffett Field Friday evenings.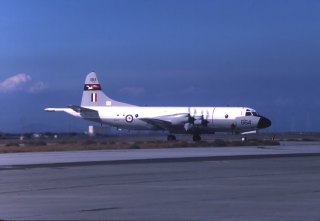 The Aussies also fly P-3 Orion aircraft and we had an exchange program with them at VP-31. We also flew patrol missions with the Aussies out of RAAF Butterworth in Malaysia. The Aussie's maritime patrol wings were headquartered in Perth. Whenever we had a trip to Perth I would be asked to set up a "World War II remembrance tour" as we passed through the South Pacific going and coming (we had to make stops for fuel anyway). So, I was able to visit most of the islands where the principal battles were fought between 1942-45.
Questions or comments on this page?
E-mail Dr. J David Rogers at rogersda@mst.edu.