MANOA VALLEY LANDSLIDES
GEOTECHNICAL CONSULTATIONS
HONOLULU, HAWAII


J. David Rogers, Ph.D., P.E., R.G., C.E.G.

This project included causation and remedial design studies for 140 home landslide. J. David Rogers provided geotechnical and geological consultations to the Honolulu Board of Water Supply relating to stabilization of two massive landslide in the Manoa Valley area of the city, above the university. The landslides encompassed approximately 140 homes in a 10 acre area and caused substantial damage and economic loss to over thirty homes. The project involved extensive use of climatological records to ascertain the triggering thresholds for slope movement. It was determnined that development terraces and streets appeared to increase infiltration of rainfall, a little bit each year until the failure initiated on New Year's Day 1988, following a significant storm event.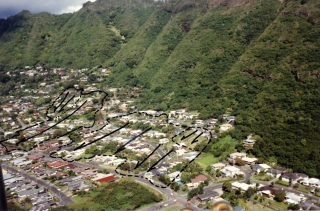 Aerial oblique view of the Hulu-Woolsey (foreground) and Paty-Alani
Landslides in Manoa Valley, as seen in 1991.

Questions or comments on this page?
E-mail Dr. J David Rogers at rogersda@umr.edu.