Nobuyuki Fukawa is an associate professor of marketing at Missouri University of Science and Technology. He is also a Distinguished Visiting Associate Professor at Graduate School of Business and Commerce, Keio University, Tokyo, Japan. He earned his B.A. from Hitotsubashi University, Tokyo, Japan, Master of Marketing Research (M.M.R.) from the Coca-Cola Center for Marketing Studies at University of Georgia, and Ph.D. in Business Administration (Marketing) from Louisiana State University. Prior to his academic career, Nobuyuki worked in sales and marketing at Dell Japan and Coca-Cola Company, Japan.

His latest research focuses on managerial issues on technology and innovation in marketing, such as Robotic Technology, Blockchain, and Big Data. He collaborates with leading firms in robotics, AI, and Big Data analytics, including Softbank Robotics, Iris Robotics, Iris Ohyama, Daiei Inc., Happo-en, and Megaputer Intelligence. For his paper on consumer adoption of robotic technology, he received M. Wayne DeLozier Best Conference Paper Award at 2018 Academy of Marketing Science Annual Conference in New Orleans, Louisiana. Most recently, collaborating with the Department of Mathematics and Statistics, he further developed this research project into a new class Marketing Revolution with Machine Learning.

His article on Big Data consumer analytics was ranked as the eighth most cited article in marketing (Shugan's Top 20 Marketing Meta-Journal, the University of Florida). Building on this article and creating a strategic partnership with a leading company of Big Data analytics, he developed a new course Big Data Consumer Analytics. Furthermore, he has been invited as a guest speaker at a major analytics conference in the industry.

His research has been published in various journals, including Industrial Marketing Management, Journal of Business Research, Journal of Business Ethics, Psychology & Marketing, Journal of Personal Selling and Sales Management, and Journal of Advertising. He has presented his research at various conferences, including the Society of Consumer Psychology, Academy of Marketing Science, and Advertising and Consumer Psychology. He has taught Marketing Revolution with Machine Learning, Big Data Consumer Analytics, Marketing Strategy, Consumer Behavior, and Principle of Marketing.



---
Selected News and Activities
⚡&nbsp My paper "Driving Innovation via the Digital Twin", co-authored with Professor Aric Rindfleish, has been accepted for publication as Catalyst Article in Journal of Product Innovation & Management, June 7, 2022.

⚡&nbsp Presented "Value Creation and Disruptive Innovation by Robots" at 2022 Academy of Marketing Science Conference, May 27, 2022.

⚡&nbsp Invited my former MBA student, Gowtham Kethineedi, CVS Health Analyst as a Guest Speaker for my new class, Marketing Revolution with Machine Learning, May 3, 2022

💥&nbsp Spring 2022: New Marketing Course MKT 5001: Marketing Revolution with Machine Learning

⚡&nbsp My paper "Dynamic Capability and Open-Source Strategy in the Age of Digital Transformation" has been published in Journal of Open Innovation: Technology, Marketing, and Complexity, July 16, 2021.

⚡&nbsp Invited to give a graduate seminar course at the Graduate School of Business and Commerce, Keio University, Tokyo, Japan, June 2021.

💥&nbsp Spring 2021: New Marketing Course MKT 5410: Big Data Consumer Analytics

⚡&nbsp Invited to give a graduate seminar course at the Graduate School of Business and Commerce, Keio University, Tokyo, Japan, June 2020.

⚡&nbsp Organized a special session on AI and Robot at 2020 AMA Marketing & Public Policy Conference, May 28, 2020.

⚡&nbsp My paper "Big Data Consumer Analytics and the Transformation of Marketing" is ranked the eighth most cited article in marketing according to Shugan's Top 20 Marketing Meta-Journal at the University of Florida, February 29, 2020.

💥&nbsp Spring 2020:&nbsp I am on sabbatical leave and visiting Katz Graduate School of Business at the University of Pittsburgh.

⚡&nbsp My paper "Robots on Blockchain: Emergence of Robotic Service Organizations" has been published in Journal of Service Management Research, February 13, 2020.

💥&nbsp Fall 2019:&nbsp I am on sabbatical leave and visiting Department of Business Administrtation at the University of Illinois at Urbana-Champaign. (Photo with the host Dr. Aric Rindfleisch)

⚡&nbsp Invited to give a talk on "Consumer Big Data and Innovation in Marketing" at Research Institute of Business Administration, Waseda University, Tokyo, Japan, July 1, 2019.

⚡&nbsp Invited to give a graduate seminar course at the Graduate School of Business and Commerce, Keio University, Tokyo, Japan, June 2019. (Photo)

⚡&nbsp Organized a panel discussion on "Implication of Robotic Shopping Assistant in Marketing" at the Annual Academy of Marketing Science Conference, Vancouver, Canada, May 2019. (Photo with panel members)

⚡&nbsp Organized a special session on "Robotic Shopping Assistants and Other Emerging Technologies for Automation in Frontline Encounters" at the Annual Academy of Marketing Science Conference, Vancouver, Canada, May 2019.

💥&nbsp My paper "Consumers' Willingness to Try a Robotic Shopping Assistant: The Role of Imagery" wins the M. Wayne DeLozier Best Conference Paper Award at Academy of Marketing Science Annual Conference, New Orleans, Louisiana, May 2018. (Photo with my co-author Dr. Yu-Shan Huang)



---
Selected Photos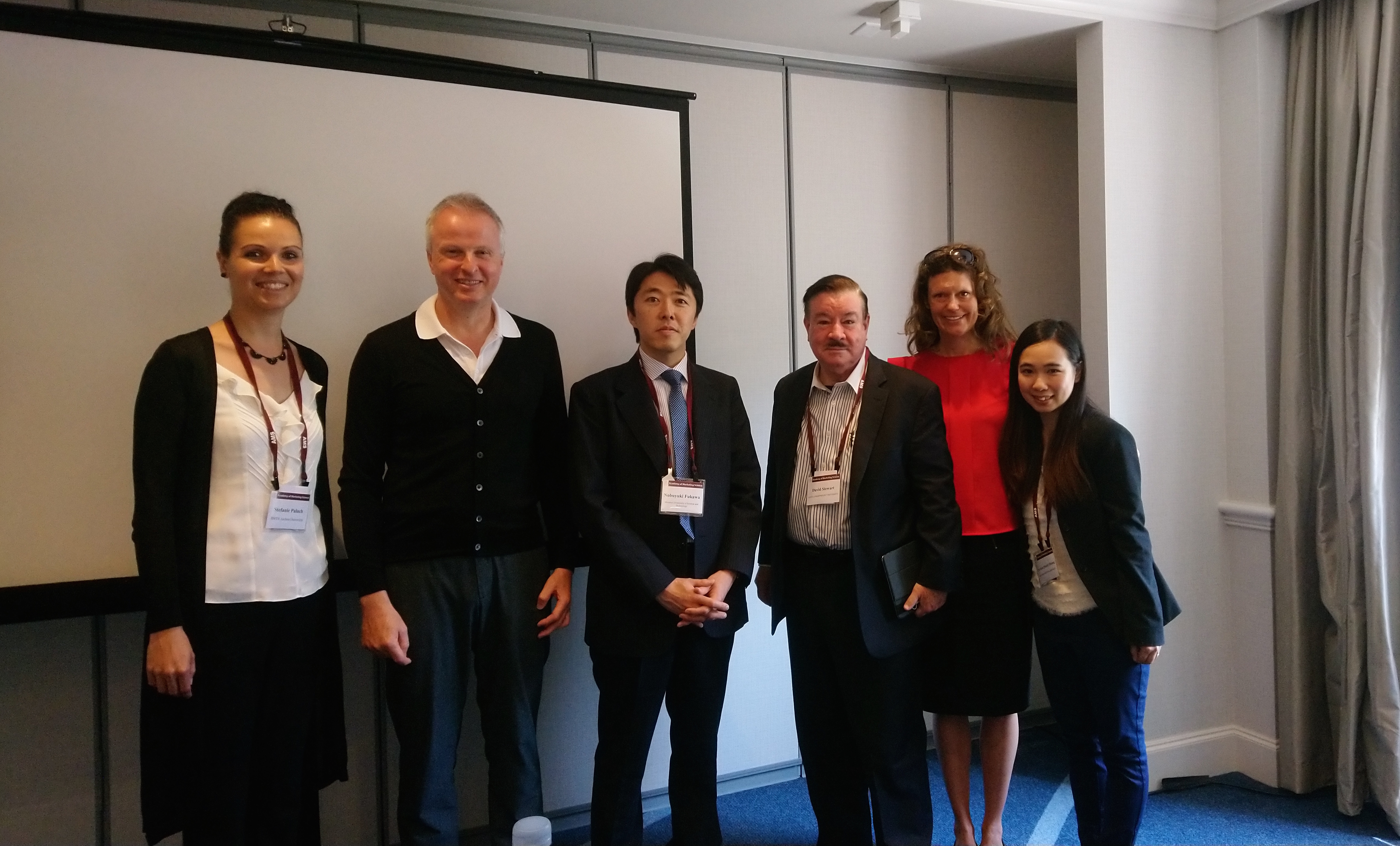 (With Panel Members)

Organized Panel Discussion on Robotic Shopping Assistant
Academy of Marketing Science
Vancouver, Canada
May 2019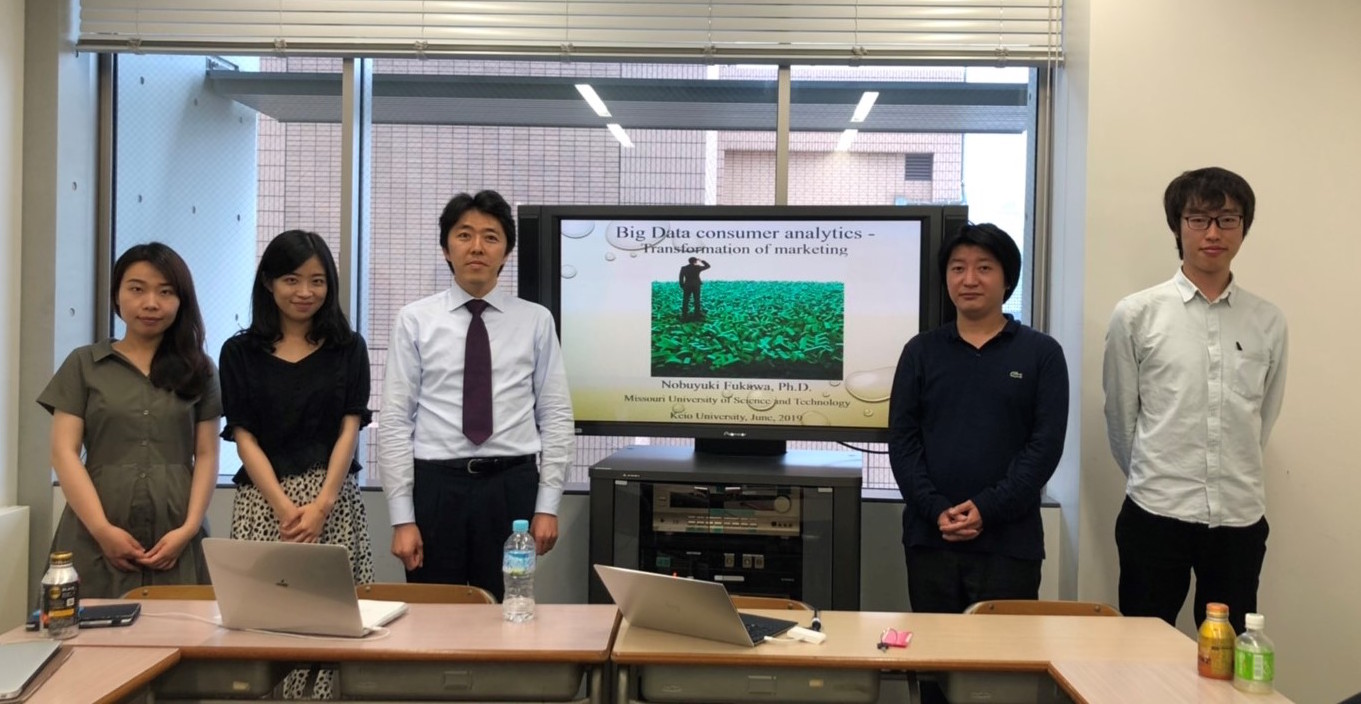 (With Prof. Hidesuke Takata and graduate students)

Invited as Distinguished Visiting Professor
Graduate Seminar on Big Data and Marketing
Keio University, Tokyo, Japan
June 2019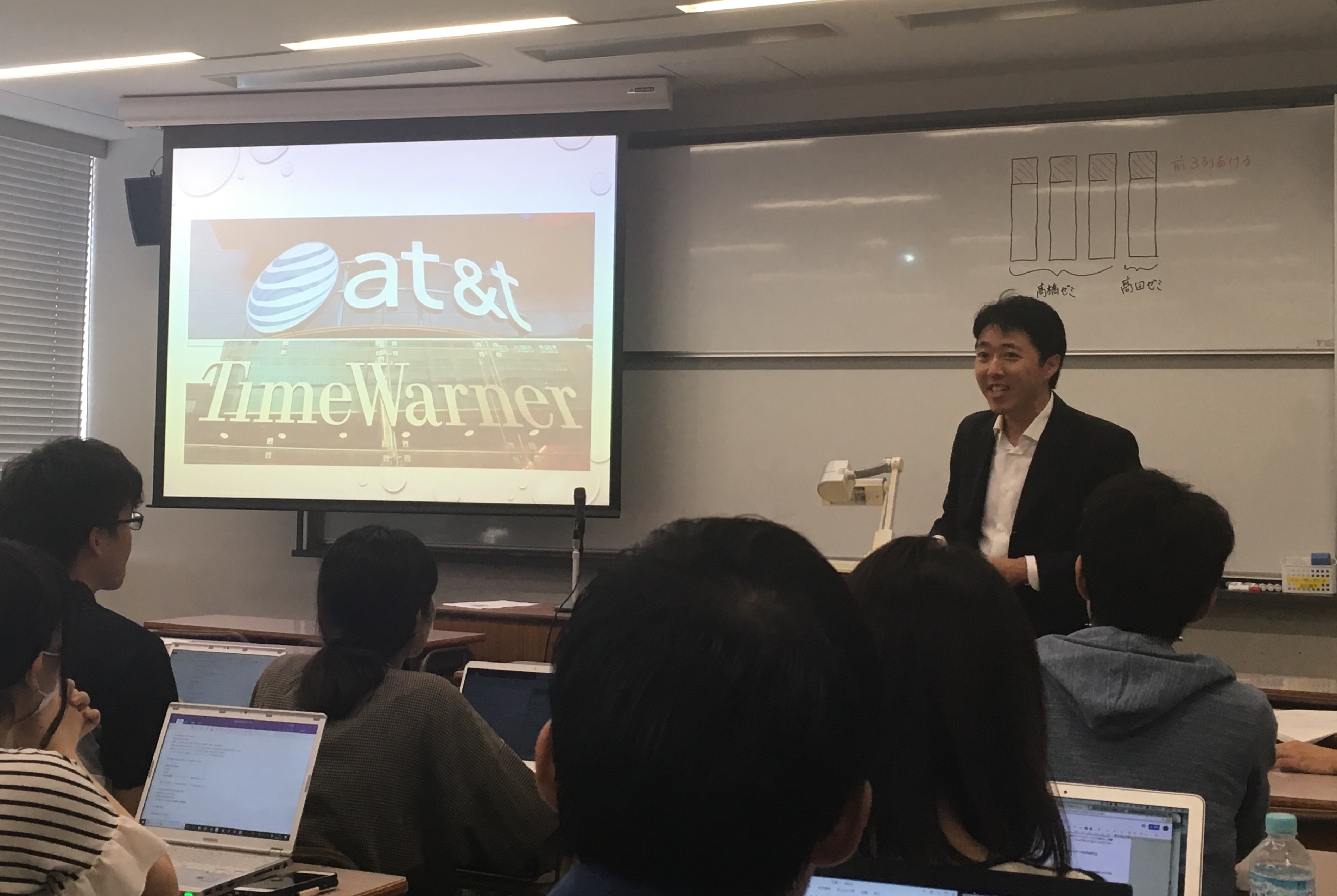 Guest lecture on Big Data and Innovation
Keio University, Tokyo, Japan
July 2018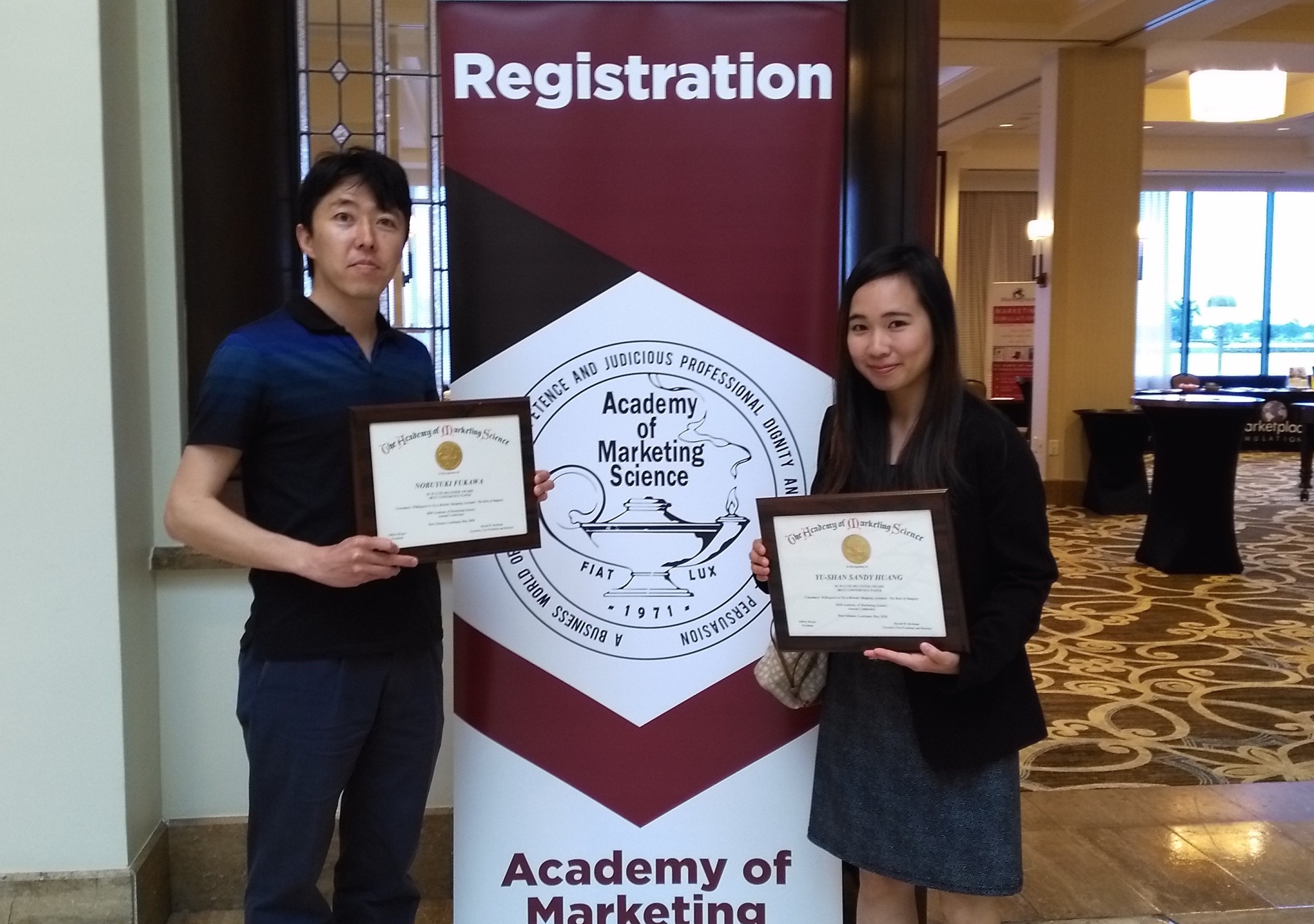 (With my co-author, Yu-Shan (Sandy) Huang)

M. Wayne DeLozier Best Conference Paper Award
Academy of Marketing Science
New Orleans, Louisiana
May 2018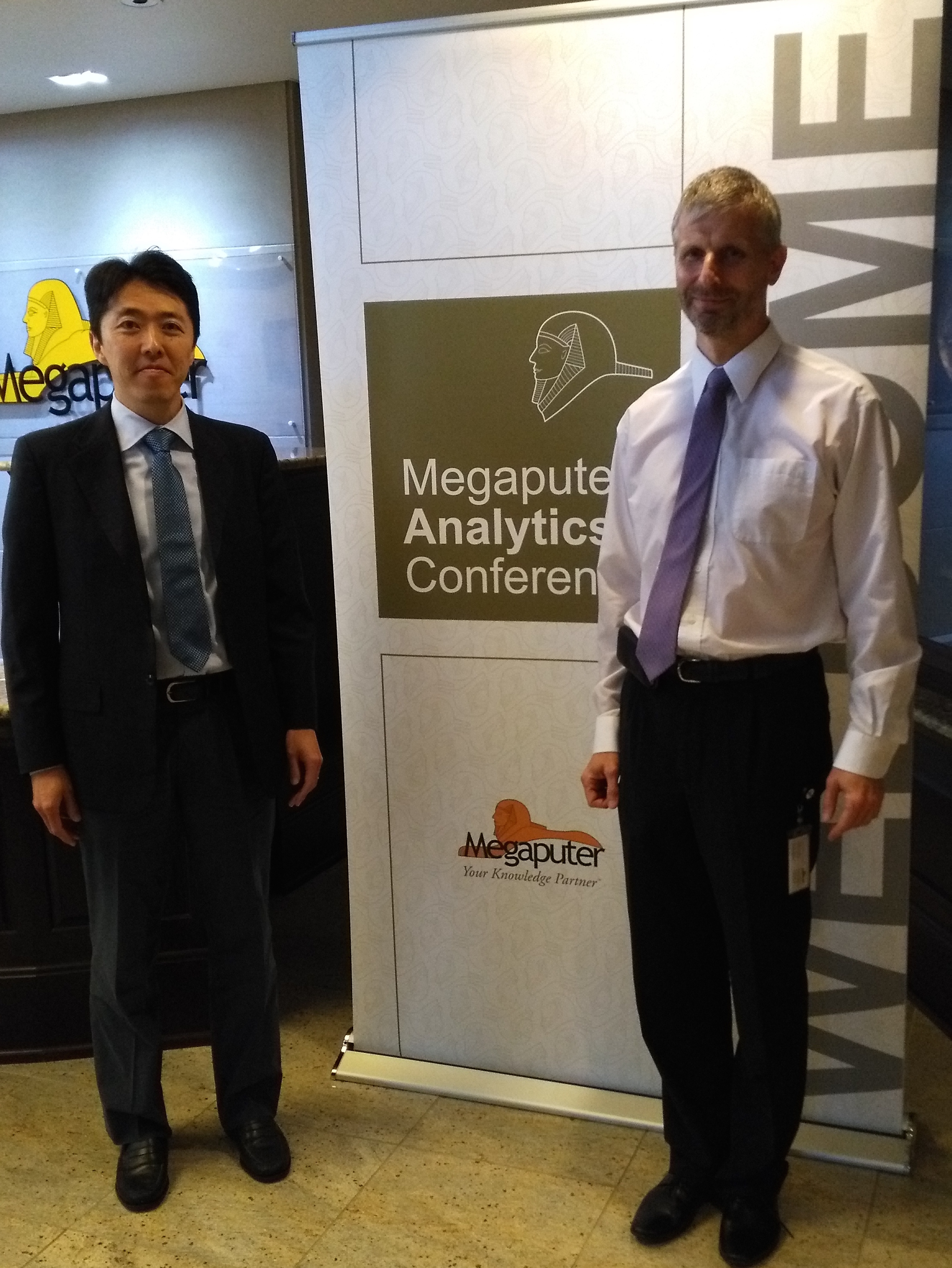 (With Sergei Ananyan, CEO of Megaputer Intelligence Inc.)

Invited talk at Megaputer Analytics Conference
Megaputer Intelligence Inc.
October 2017