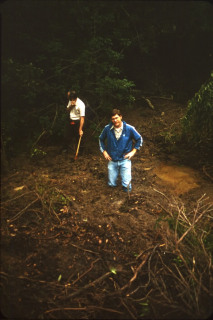 Dave testing the depth and viscosity of a debris flow below Charles Hill Circle in Orinda, CA in March 1983, while working for Alan Kropp & Associates of Berkeley. I learned the rudiments of the consulting business from Al Kropp.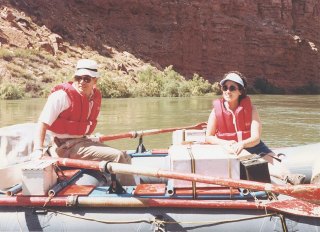 Trinka's first raft trip was a run through the Grand Canyon on record high water in June 1983. We were making a documentary film, which Dave co-wrote. Dave was tossed out of the raft at 24-1/2 mile rapid and Trinka found herself alone for quite a spell…..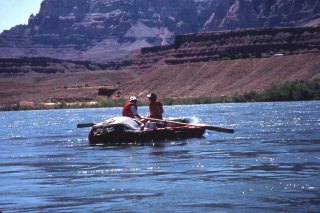 This view shows Dave and Trinka passing Lee's Ferry on the Colorado River in a 14 foot Miwok raft on June 22, 1983, when the Colorado River was running 63,000 cfs, the highest it had been since Glen Canyon Dam began controlling the flow in March 1963. By June 29th the river was running 93,000 cfs and we had ourselves one memorable ride through the Canyon!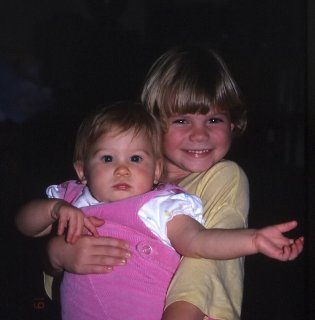 Beckie holding 9-month old Christie in November 1984, before Christie's hair turned platinum.

Family photo in July 1985, during Navy duty at Fleet Intelligence Center in Pearl Harbor. Our family enjoyed four Hawaiian deployments between 1985-93.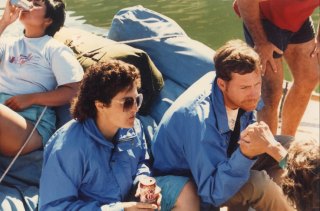 Trinka and Dave having an intense discussion with one of the students during the week long Grand Canyon Field Studies course Dave taught for U.C. Berkeley in October 1984 and 1985.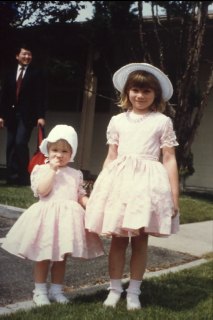 Daughters Christie (at left) and Beckie at their grandfather Myr's church in Antioch for the christening of family friend Tiffany Hsu, Easter 1986.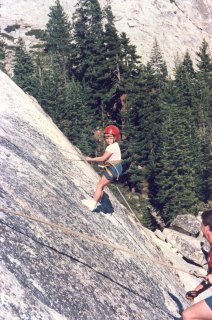 Beckie rappelling in the high Sierras during a Focus on the Family camping trip with Summit Expeditions in August 1986.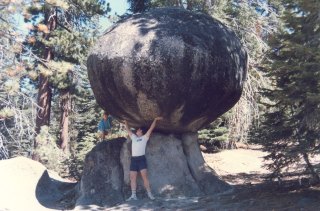 Beckie and her Uncle Ty Guy beneath Globe Rock, above Bass Lake in the Sierra National Forest. In 1981 Dave had proposed that this boulder formed in place and was not a glacial erratic. This turned out to be true.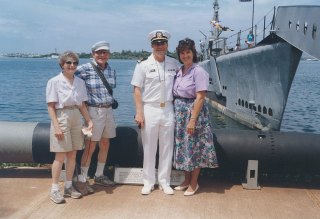 Dave's parents Dallas and Betty and Dave and Trinka in front of the World War II submarine USS Bowfin at Pearl Harbor, in August 1987.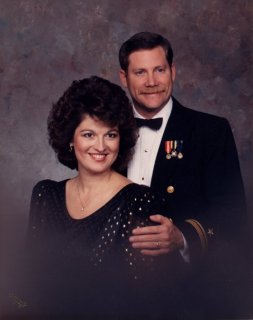 Lieutenant and Mrs. Rogers at the San Francisco Navy Ball October 1987.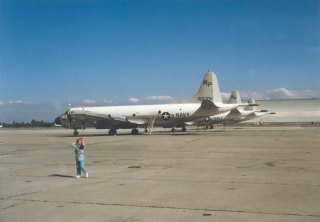 In 1988 Dave began taking Beckie with him on some of his duty days at NAS Moffett Field. This shows 9 year old Beckie in front of the flight line at VP-31. Small wonder she became a Naval officer!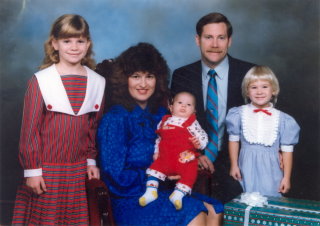 Annual Christmas picture in December 1988, shortly after Jonathan was born. Beckie was 10 and Christie almost 5.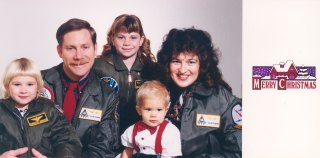 For our 1989 Christmas card to Navy friends we all donned miniature flight jackets Dave had made in Korea.
"Delight yourself in the Lord and He will give you the desires of your heart"
Psalm 37:4
Questions or comments on this page?
E-mail Dr. J David Rogers at rogersda@mst.edu.