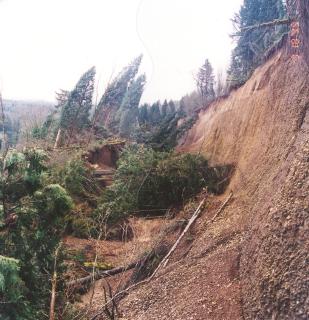 Looking south at point where the crown scarp reached a maximum height of about 125 feet. This was behind 511 Banyon Drive. The steep face exposes sands and silt of the upper Troutdale formation overlying coarse cobble conglomerate of the lower Troutdale. The landslide appears to have translated along the contact between the lower Troutdale and the underlying Cowlitz formation.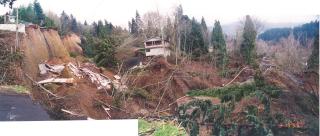 Overview looking north from 40-feet high landslide scarp across Cedar Glen Court. Ground movements were initially noticed along Cedar Glen Court in February 1998. The headscarp graben varies between 40 and 175 feet deep, as measured from the crown above the slide.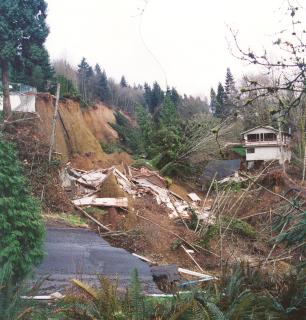 This view shows the developed headscarp area where it severed Aldercrest Drive, as seen in March 1999. The home at right is sitting on a horst block that has translated about 100 feet from its original position.


Looking south along what used to be Banyon Drive, several hundred feet below the landslide headscarp. This area was underlain by back-rotated blocks which translated several hundred feet downhill.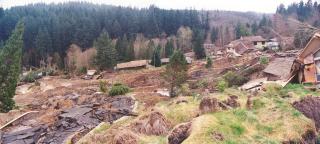 About 500 feet below the headscarp, the slide material disintegrated into a series of shallow earthflows and debris flows, carrying structures and remnants up to 1500 feet downhill.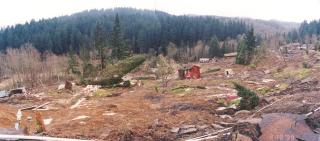 Another view of the debris field below what used to be Banyon Drive. Secondary debris flows coalesced from disintegrating earthflows, carrying fluidized material down to Bear Creek, a tributary of the Coweeman River (located about a mile north).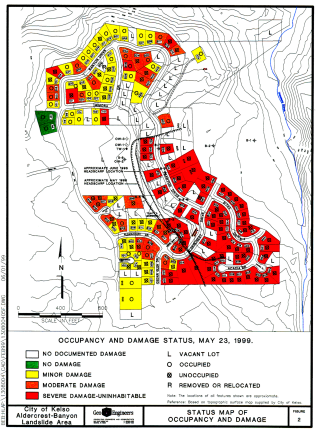 This map shows the properties affected by the Aldercrest-Banyon Landslide. The lots shown in red were those most severely damaged or destroyed. The homes portrayed in yellow and orange were subsequently condemned and removed from the area.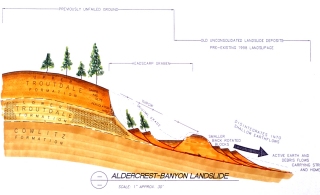 This is a geologic cross sectio through the headscarp of the slide where it reached its maximum dimensions. The slippage appears to have occurred along the contact between the Lower Troutdale and upper Cowlitz formations, a major permeability contrast.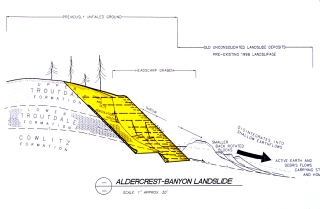 This shows my proposed scheme for repairing the headscarp, using a Mechanically Stabilized Embankment, compacting soil between layers of geotextiles to increase the soil shear strength. This proposition came too late to change anyone's mind about abandoning the neighborhood.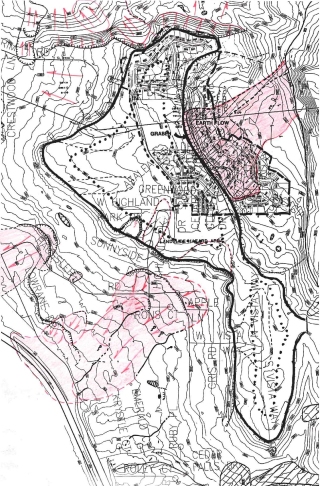 In the spring of 1999 two more landslides reactivated on the opposite side of the same ridge, moving southwesterly. These were called the Haussler Road Landslides. The active slide areas are shown in red on this map. Interstate 5 is at lower left.

Questions or comments on this page?
E-mail Dr. J David Rogers at rogersda@umr.edu.