GEO 372 - Geological Field Studies
-Field Studies in The Grand Canyon Region (Spring 2005)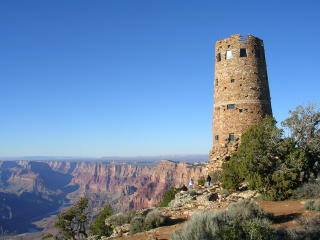 View of eastern Grand Canyon from Desert View. The Desert Watchtower was designed by Mary Colter
in 1930 for the Fred Harvey Co. Most of these gorgeous photos were taken by Dr. David J. Hoffman.

-Suggested Equipment For Grand Canyon Field Trip

John Hogan (left) and Dave Rogers (right) taught the Spring 2005 Geological Field Studies
course, which explored the Grand Canyon region. This photo was taken along the Colorado River at
the mouth of Diamond Creek, at River Mile 225.

___________________________________________________________________

Pictures From The Field Trip:
(Click Thumbnails For Larger Images)
Questions or comments on this page?
E-mail Dr. J David Rogers at rogersda@mst.edu