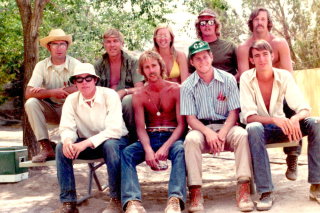 In June 1974 I enrolled in the first summer field geology course offered at California State Polytechnic University, Pomona, taught by Professor Larry Herber (back row, extreme left). I relished the challenge, and it turned out to be the best course I took in 10 years of college. I am in the first row, second from right, wearing a green Cal Poly ball cap.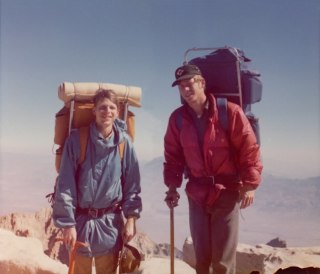 On summit of Mt. Whitney (14,505 ft) with my brother Brian (at left) on Labor Day weekend 1974. We traversed the summit, going up the Mountaineer's Route on the East Face and returning to Whitney Portal via the 96 switchbacks of the Mt. Whitney Trail.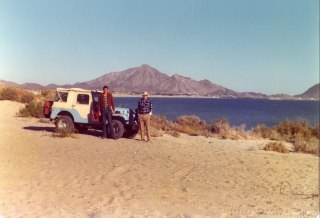 During Christmas Vacation 1974 fellow geology students Steve Carpenter and Bob Archer accompanied me on a geology excursion through Baja California in my '65 Jeep. We took two spare rims and tires, as well as four Jerry cans for extra gas. This was one of our beachfront campsites, about three miles south of San Felipe on the Sea of Cortez. Steve is on the left and that's me on the right, in the cowboy hat. I loved exploring the Baja wilderness.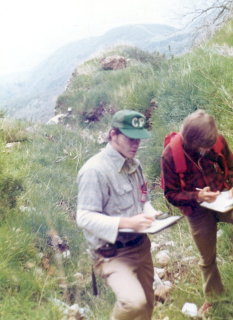 This is a photo of myself and a Cal Poly classmate field mapping an old quarry
in the eastern San Gabriel Mountains near Deer Creek for our Igneous and Metamorphic
Petrology course in March 1975. Note the pocket protector
and the array of colored pencils.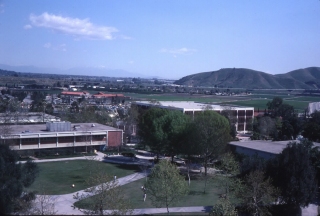 This is how the Cal Poly campus appeared at the time I was enrolled, between 1974-76. I was fortunate
to be named the Outstanding Graduate in Geology for 1976, which helped me gain entry to grad
school at U.C. Berkeley.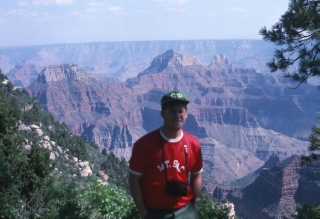 In June 1975 the Cal Poly Geology Club took an extended tour on the Colorado Plateau to take in the inspiring geology of that expanse. Here I am standing on the Canyon's North Rim. I vowed to come back and study the Grand Canyon in more detail someday, and I've been at it ever since.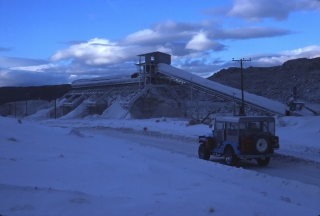 While I was matriculating through Cal Poly I made four trips to Baja California
to do some serious exploring and study the geology. This picture shows the US Gypsum anhydrite mine near Split Mountain in the Anza Borrego Desert, which we stopped to see in Dec '75, on our way to Baja.
It may look like snow, but it's actually hardened gypsum!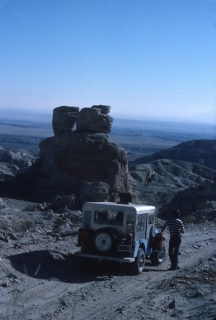 Here's a picture of my Jeep with the new aluminum hard top crafted for me by
my friend Lee Nelson. We're looking at Dos Cabezas on our way through northern Baja in December 1975.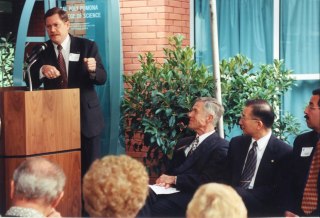 In October 2000 I spoke at the dedication of the new Biotechnology Building on the Cal Poly campus. The fellows on my left are Dean of Science Simon Berneau and Cal Poly President Bob Suzuki (also a Berkeley grad).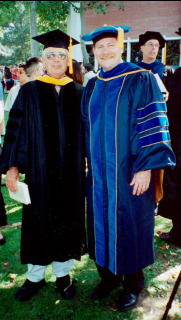 In June 2001 I was invited to be the commencement speaker at Cal Poly. I am shown here (at right) along side my long-time mentor, Professor Larry Herber. He retired that same year after 28 years of service. It was Dr. Herber who introduced me to engineering geology and the study of landslides back in 1974 (see first photo at top of this page).
Questions or comments on this page?
E-mail Dr. J David Rogers at rogersda@mst.edu.