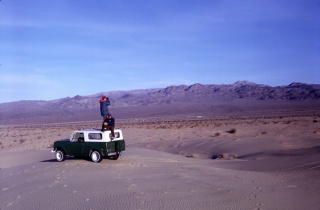 In the spring of 1972 I became fascinated with exploring the deserts of southeastern California. This shows me standing on an International Scout on the northern margins of Kelso Sand Dunes, using my binoculars to look at something. We were following the Old Government Road from Fort Mojave on the Colorado River (north of Needles) to Barstow, CA, along the same path used by Mountain Man Jedediah Smith when he explored California in 1826 and '27.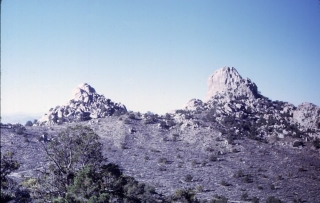 In the fall of '72 a group of us decided to try climbing the Eagle Crags shown here, in the Mid Hills above Cima Dome, in the center of the high desert. I loved tromping around this area looking at granitic pediments and enjoying the serenity of my surroundings.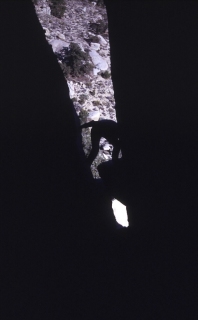 Silhouette view looking at my climbing partner following me up a memorable chimney we used to scale one of the Crags pictured above. Instead of narrowing with height, it became wider, which presented some memorable challenges!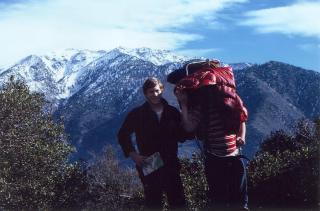 Me and mystery guest Bob Challinor (under jacket) on the Heaton Flat trail heading for the Allison Mine on Iron Mountain in January 1973, on the holiday occasioned by the death of former President Johnson. The mine area was filled with all kinds of artifacts.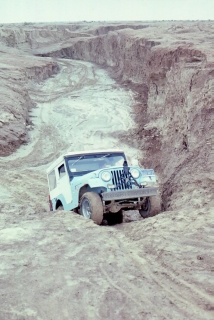 In January 1973 I purchased a 1965 CJ-5 Jeep for $1250 with the help of my older brother Robert. This mobility allowed me to begin exploring more remote portions of the deserts in California, Nevada, Arizona and Baja California. This photo was taken in the Borrego Badlands, west of Salton Sea.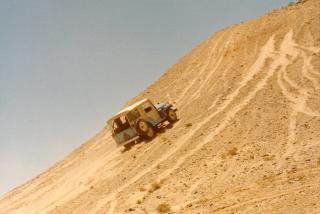 During President's Weekend in February 1973 Steve Tetreault and I took the '65 Jeep on a tour of the Colorado River Valley, between Parker and Lake Mead. This shows me attempting to climb a steep sand hill near Davis Dam.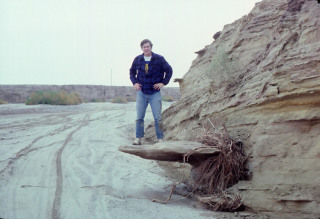 Standing on a ledge rock along Salada Wash in the Borrego Badlands. This is a sandstone concretion formed in Pleistocene age alluvial sediments. Years later I described paleoliquefaction features exposed in the walls of these same dry washes.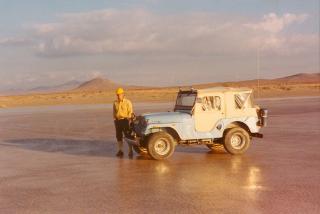 My beloved blue Jeep was my constant companion between 1973-98. Here we are pictured on Superior Lake near Fort Irwin in the Mojave Desert in the fall of 1973. The smooth waxy surface was made slick because of the smectite clay comprising the lake bed and a little rain. The Jeep would slide like a skate board over this surface when it was moist, making for some cheap thrills.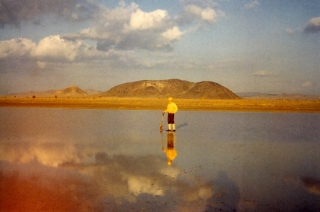 Standing in the muddy water of Superior Dry Lake, inside what is now Fort Irwin Desert Training Center, about 25 miles north of Barstow. The water was about two inches deep, cloudy because of dispersive clay. I purchased the wool mountaineering knickers from my political science professor. Taken in November 1973.
Questions or comments on this page?
E-mail Dr. J David Rogers at rogersda@mst.edu.