GE 4001 - Evolution And Development
of Flood Control Engineering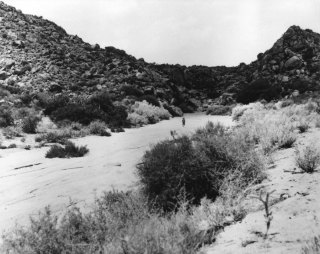 Dry ephemeral channel in the central Mojave Desert, near Rock Springs in the Mid Hillsarea.
This view is looking upstream at the rock-alluvium transition, as it appears duringmost of the year.
Note the child running for scale.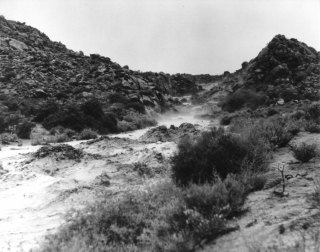 The same channel near Rock Springs during a flash flood event on June 16, 1969.
During high flows the channel bed is scoured significantly, such that 10-feet high
standing waves are developed. Note the extreme turbidity of the runoff, which
decreases the effective weight of the suspended bedload as much as 90%.
Both photos by Dennis Casebier of Mojave Desert Archives in Goffs, CA.

-Flood Control Course Syllabus
-History of Flood Control in the United States
-Levees (Web Section Featuring New Orleans
Hurricane Katrina Disaster & Background)
-Site Characterization and Failure Modes in
the Paterno Flood Case
-Evolving Laws for Flood Damage Litigation
-Career of Brigadier General Herbert D. Vogel, P.E., NAE