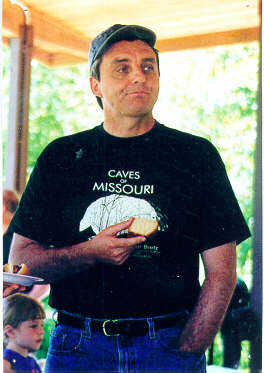 Dr. Paul Edwin Albertson
1955-1999

On the mst campus between McNutt Hall and Stonehenge stands a newly planted Ginkgo tree. It was placed there by the family,friends and colleagues of Dr. Paul Albertson. Here are the words spoken by Dr. Jay Gregg at the dedication of the tree on Wednesday December 15th, 1999
The Ginkgo Tree
In Memory of Paul Albertson
by Jay M. Gregg

Ginkgo biloba was first described from the fossil record and is the lone survivor of an ancient group of gymnosperms that evolved early in the Permian Period of the Paleozoic Era, 280 million years ago. Ginkgophyts were widely distributed, throughout the world, during the Mesozoic Era and much of the Cenozoic Era. Ginkgo trees were common in forests of western North America during the Miocene Epoch 16 million years ago where they are preserved among the Columbia River basalt flows. Soon after this the Ginkgo tree disappeared from the fossil record and for many years was thought to be extinct. However, Ginkgo biloba was "discovered" in the late 19th century in southeastern China, under cultivation by Buddhist monks.
The Ginkgo is an attractive, stately tree often reaching a height of 25 meters. Regarded to be a "living fossil" it commonly was planted near the Geology departments of Universities early in this century. The Ginkgo tree lived during all three eras of the Phanerozoic Eon. It saw the origin and the demise of the Dinosaurs. It survived two of the greatest extinction events in geological history, at the end of the Permian and the Cretaceous Periods. It experienced the rise of the Rocky Mountains. And it witnessed the birth of the Human species. There can be no more fitting memorial for a great geologist than a Ginkgo tree.
Here is an article from the "Spelunker"...
by Jon Isaacson
Dr. Paul Edwin Albertson (1955-1999)
In the fall of 1996, an older gentlemen began to appear at the weekly club meetings. This seemingly reserved fellow was always anxious to talk with others at the meeting about geology, which was obviously his first love. He enthusiastically joined the membership that same semester.
Paul had come to mst seeking his Ph.D. in Geological Engineering. He worked for the Army Corps of Engineers, Waterways Experiment Station (WES) out of Vicksburg, MS. He had been given the opportunity to study at mst for this degree while conducting WES work at Fort Leonard Wood.
One day, upon passing by his McNutt Hall office, which most always had its door open while occupied, I stopped to speak with this new member. We covered a multitude of topics in a relatively short period of time. His knowledge of geology was amongst the keenest I had encountered, and his quest to learn more was truly inspiring. Eventually talk of caving entered the conversation. As a result of this discussion I learned that he was working with Fort Leonard Wood on some cave archaeology issues they had at the time. He would later involve former VP Bart Potts in this endeavor. For any of you who dropped by his office to talk with him, you no doubt noticed the picture of his daughters in McCormick Cave. You could tell this man loved the underground.
Over the next few semesters, the club underwent many changes, but Paul could be counted on to be at the meetings despite. We held our second MVOR in under three years, and although Paul wasn't the type of spelunker most of us younger people are, he volunteered to lead cave trips on Fort Leonard Wood for the club. In the Fall of 1998, Paul became co-advisor to the club. He and our other co-advisor, Jim Kaufmann, worked on a research proposal that members in the club could themselves conduct. Paul watched over the Spelunkers like they were his own children, eager to learn or share knowledge with anyone of us.
Little did we know that when we left school last summer that Paul would not return this fall. On July 26, while in Mississippi conducting business for WES, his truck rolled over on I-55 south of Jackson. Paul did not survive. His wife, Sue, riding beside him, thankfully survived the ordeal. I know all of us remember the shock we felt upon hearing this sad news. We had lost one of our own.
In these months that have followed the tragedy, those of us very close to Paul have had to cope with his loss. Even for those who only casually knew him, the absence of his magnanimous personality could be tangibly felt. Our grotto continues the work he started and remembers our fallen Spelunker. The research proposal that Paul helped to forge is now slated to go forth. Spelunkers conducted toasts to Paul both at MVOR and at the Grotto. The club was honored to make a donation to The Paul Albertson Memorial Scholarship set up in his honor. And finally, a Gingko Tree has been approved for planting on the north side of McNutt in his memory at the behest of his friends, MSM Spelunkers included. We do all of these things to acknowledge Paul, our friend and fellow Spelunker.
Paul held all of us in very high regard. He felt that the strength we gained by being around one another makes us capable of significant accomplishments. I know that if he can be with us, he is.
A light among us has gone dark, passageways ahead noticeably dim
One less caver leaves his mark, we shed our helm's in remembrance of him
To celestial caverns you ascend, a new journey you've begun
So chart the leads you find my friend, we'll see you when we're done