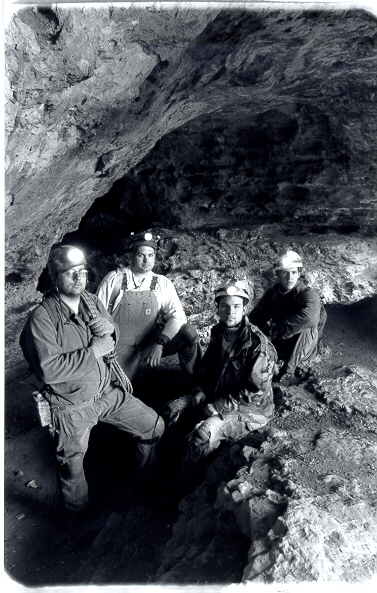 Kenny,Jon,Kally and Trevor in a B&W shot for the Alumni Magazine
In recent years, several MSM Spelunker's Club members have been involved in both behind and in front of the camera television production. Bart Potts, Nick Paladin, Rob Tayloe, and Kenny Sherrill assisted Skip and his crew, and were filmed "in action" in Onondaga Cave for an episode of the Missouri Department of Conservation's "Missouri Outdoors" television program that airs on both network and pbs stations statewide. Although they were little more than scenery in motion, they can easily be recognized throughout the program as it aired. I will find out the episode number and post it here asap.
In August and October of '98, Rob Tayloe, Kenny Sherrill, Jon Isaacon,Trevor Stroker, and Kally Gehly assisted in the production of a television commercial filmed underground by @radicalmedia for the Compuware Corporation. The scale of production was incredible,(i.e. pumping over 40,000 gallons of water over a fake waterfall!) considering that the final product is a 30 second spot! The commercial began airing in mid-January, and can be seen on CNN The History Channel, and CBS (among others). For more info go to @radicalmedia's web site,click "start","commercials","+"(to get second page of directors),"Wagreich",and finally "Compuware". At the time of this writing,only two other commercials of the series were represented, but I expect ours to be there soon!....I might also mention that Jon was seriously involved with a companion print ad photo shoot. Those truly awesome photos will be appearing in such famous rags as Time, Newsweek, The Wall Street Journal, Vogue, Glamour, and Forbes (among others). and on a personal note, the "hero helmet" in the television ads was my(buckethead's) trusty old Ecrin Roc, and the "hero helmet" in the print ads was Jon's trusty ol' Ecrin Roc.....If you watch the commercial,see if you can identify the cave(s)represented there.......Look for an article about student involvement with the commercial shoot in the summer '99 MSM/mst Alumnus magazine!(page 20)The picture from the article is above.