Conor Watkins And J. David Rogers
Megalandslides of The Colorado Plateau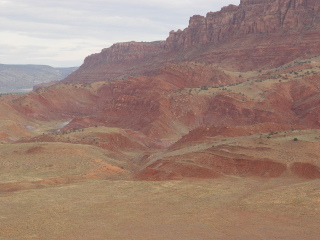 Aerial oblique view of a series of retrogresive Toreva Block landslides along the Vermilion Cliffs near House Rock, AZ. Toreva blocks are large rotational slump blocks exhibiting back rotation. The term was coined by Dr. Perry Reiche of the U.S. Soil Conservation Service when he documented the bedrock landslides surrounding the Second Hopi Mesa near Toreva, AZ in 1937. Toreva Blocks occur throughout the Colorado Plateau.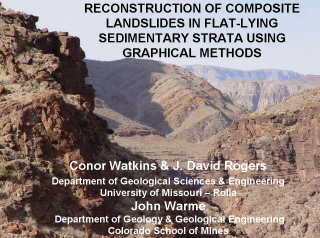 Reconstruction of Composite Landslides in Flat-Lying
Sedimentary Strata Using Graphical Methods
Geological Society of America Mtg.
Denver, CO - Oct. 30, 2007

Presentation Given At The 2005 GSA National Meeting,
Salt Lake City, UT

-ANALYSIS OF COMPOSITE BEDROCK MEGALANDSLIDES
IN THE COLORADO RIVER CORRIDOR, ARIZONA

Presentation Given At The 2005 AEG National Meeting,
Las Vegas, NV

-NEW FINDINGS RELATED TO COMPOSITE
BEDROCK LANDSLIDES IN THE GRAND CANYON

Presentations Given At The 2004 AEG National Meeting,
Dearborn, MI

-ANALYSIS AND DATING OF COMPOSITE
BEDROCK LANDSLIDES IN THE GRAND CANYON

-RECONNAISSANCE OF MEGALANDSLIDES ALONG THE
VERMILION CLIFFS OF THE COLORADO PLATEAU, ARIZONA
Questions or comments on this page?
E-mail Dr. J David Rogers at rogersda@mst.edu
or Conor Watkins at cwatkin@mst.edu.