Hoover Dam
Hoover Dam Black Canyon Boulder Dam Boulder Canyon Act Boulder Canyon Project Colorado River Boulder City Lake Mead grout curtain failure of grout curtain construction significance Six Companies
Bureau of Reclamation Frank Crowe Elwood Mead Walker Young Herbert Hoover river diversion Boulder Canyon Project Colorado River Compact Colorado River Board Lake Cahuilla Owyhee Dam
Imperial Valley F. L. Ransome Chester Longwell Claude Birdseye Mass concrete Cableways Hard hats Board of Consulting Engineers Instrumentation Carlson stress meters Carlson strain gages
Death toll Dedication Franklin Roosevelt Name controversy Storage capacity Spilling of Lake Mead Cavitation Spillway cavitation Camouflage Basic Magnesium plant Reservoir induced seismicity
Reservoir siltation Reservoir area and capacity Lake Mead sediment Lake Mead National Recreation Area
Hoover Dam was constructed by the U.S. Bureau of Reclamation between 1931-35, but the project's design emanated
from years of debate and study, beginning in 1920, when the Black Canyon site was identified by engineer-geologist
Homer Hamlin. The image at left shows Bureau of Reclamation Construction Engineer Walker R. Young (left) and Six
Companies Construction Superintendent Frank Crowe (right), who stood 6'-6" tall. Young supervised the exploration of the
Boulder and Black Canyon Dam sites in the early 1920s. Crowe's genius for construction logistics and strategic scheduling
brought the project in 2-1/2 years ahead of schedule, netting Six Companies a hefty $8 million profit.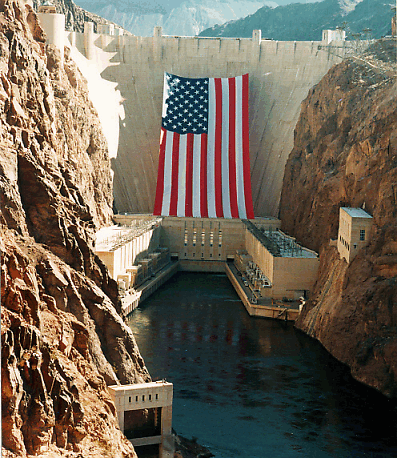 Hoover Dam 75th Anniversary Symposium - Part 1
Hoover Dam 75th Anniversary Symposium - Part 2
Hoover Dam 75th Anniversary Symposium - Part 3
Hoover Dam 75th Anniversary Symposium - Part 4
Hoover Dam 75th Anniversary Symposium - Part 5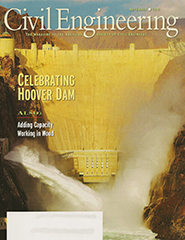 This article was recognized with the 2011Gold Publication Award from American Society of Business Publication Editors (ASBPE), in the Special Section Category, in the November 2010 issue ofCivil Engineering.
Engineering Firsts At Hoover Dam
(.PDF of 103 Slide PowerPoint Presentation - 150 MB)
-Hoover Dam: Impacts on the Engineering Profession,
America, and the World
(.PDF of 90 Slide PowerPoint Presentation - 32 MB)

The grout curtain at Hoover Dam failed to prevent dangerous levels of hydraulic uplift that developed
beneath the right side of the dam. Between 1938-47 the Bureau of Reclamation extended the grout
curtain 300 feet beneath the dam and out from the abutments, and installed an array of deep uplift relief wells.
The picture at left shows the confined quarters during drilling of the second grout curtain from the dam's
lower drainage gallery. The image at right shows the construction of the original grout curtain in 1933
out in the open, beneath the dam's upstream heel.
-Hoover Dam: Grout Curtain Failure
(.PDF of 49 Slide PowerPoint Presentation - 17 MB)

Hoover Dam was the most innovative structure of its kind when it was constructed in 1931-35.
The left image shows some of the monolithic pour blocks, which accomodated up to five feet of mass
concrete at a time, before stopping to allow curing. The view at right shows the 8 foot wide slot in
the dam's centerline used to convey temporary cooling pipes to the dam's interior. This was grouted
in 100 foot increments as the dam concrete cured. The last concrete placed in the
dam was into this slot along the dam's crest on May 29, 1935.

-Hoover Dam Impacts
(.PDF of 84 Slide PowerPoint Presentation)
The spillways at Hoover Dam have operated twice, during initial testing in 1941 (right image)and during
unanticipated high flows during the summer of 1983 (left image). On both occasions, the spillways
experienced sever cavitation at the elbow transition. Aeration ducts were added by the Bureau of
Reclamation immediately following the 1983 damage and the design flood was increased from 300,000 cfs
inflow with a flood volume of 9.5 million acre-feet (estimated in 1930) to a peak inflow of 1,130,000 cfs
with a 60-day volume of 9.3 million acre-feet (revised in 1990). This presentation summarizes
some of the impacts Hoover Dam had on the engineering profession and how our understanding
of various physical variables have evolved since the dam was designed in the late 1920s.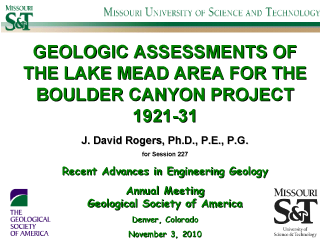 Geologic Assessments Of The Lake Mead Area For The Boulder Canyon Project 1921-31
(.PDF of 62 Slide PowerPoint Presentation - 61 MB)
Questions or comments on this page?
E-mail Dr. J David Rogers at rogersda@mst.edu.